After a short off season, RacePro Tech hits the ground with 4 wheels down at the Parker 425…  
The drive from Utah to Parker Arizona on February 3rd 2016 was filled with excitement and anticipation.  After a short off season, the team was finally ready to take on the brutal Arizona desert in their spec Trophy Truck #6149.
Team owner and driver, Justin Peck along with his co-driver Nick Kolkman lead the charge by taking the green flag at 1:36pm.  Peck started in the 10th position out of an eager 38 truck field and was determined to prove that #6149 belonged at the front.  It didn't take long before Peck had passed his way up too 6th place and had his sights on placing his truck into the top 5.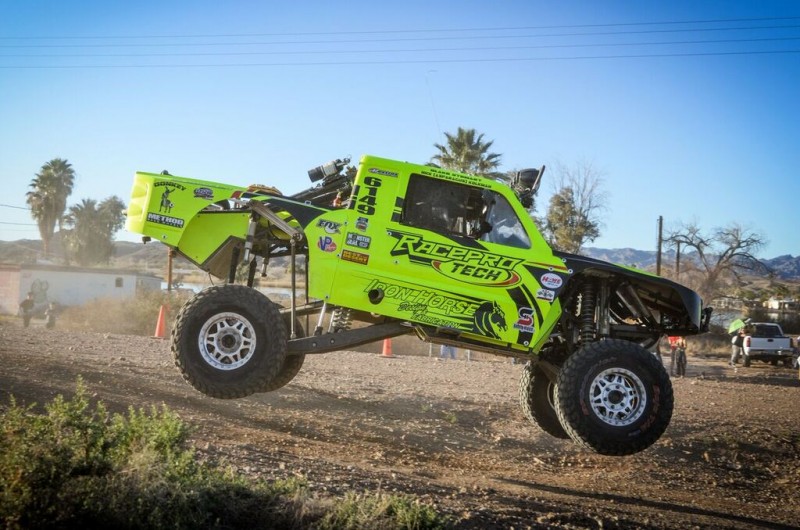 The dust was thick and as the sun started to set, visibility became a rare commodity.  Pushing though lapped traffic that started in the morning race, Peck found himself gaining valuable time on the truck ahead when he hit a cow at 85mph that had wandered onto the race course.  The collision severely damaged the front of the truck which in return required some repair at main pit.  Once at main pit, Peck and Kolkman jumped out and Jason Horsley along with his co-driver Blake Stewert took over driving duties to complete the last and final lap.  Still running 6th, Horsley pushed the truck to the limit.  With 80 miles left in the race, the truck suffered a blown front shock (due to the previous collision) and one of the main cooling fans shorted out creating a menacing over heating issue which made it impossible to run at full speed.  With Horsley's many years of experience, he was able to limp the truck to the finish line for a top 10 finish providing the team with well needed finishing points and the bragging rights of saying we finished the 2016 Parker 425.